Meeting with Mr. Kato, owner of Angkor Tiger FC and why he became a sponsor
Shigeki Ishida is the president of Mikasa Manufacturing Co., Ltd., which produces "control panels" based in Aichi Prefecture. Why does he sponsor Angkor Tiger FC in Cambodia, where there is no business connection for his company? We had an interview with him.
"Being a sponsor gives me a simulated experience of professional football club management. It's difficult to own a club, so I learn the way of professional football club management through this sponsorship. In the near future, I want to create a huge robot industry for e-sports. I sponsor them as a leaning for the goal. When I am with Kato, I feel like I'm looking at myself at a young age, and I am reminded of the passion I had when I was young."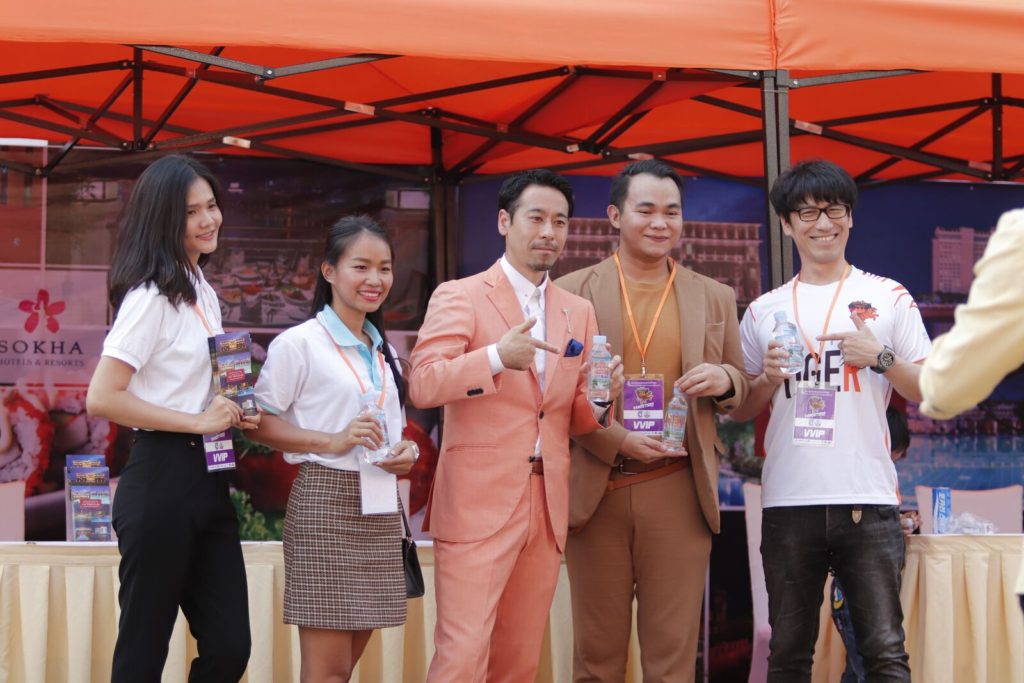 Why did President Ishida meet Kato?
"Mr. Kato was introduced to me by my friend who worked with him in Nigeria. Then I went to dinner with them. At that time, I asked him, "Is the business in Cambodia and Nigeria interesting?"  "It's really thrilling", he said. Thus, I decided to join a business in Cambodia and Nigeria. I expected to learn about sports business from Akihiro Kato while doing my main business. Furthermore, I simply think that it is interesting no matter what you think."
Since the 2017 season, Mikasa has sponsored Angkor Tiger FC. For example, the right to chat with the owner and GM of the club on LINE, a jersey sponsor, and a matchday sponsor. President Ishida has been to Cambodia 5 times until now.
Reason for sponsoring 10 teams which have many kinds of sports
Angkor Tiger FC is not the only Sport or team which President Ishida and Mikasa support. They became a sponsor of Nagoya Grampus, which is a football team in J.league in 2013. They sponsor ROVERS FC, which is a football team in Chiba. Also, Mikasa has become a sponsor of the drivers of motorsports. Thay support Team LeMans which is the Super GT team, TONE RT SYNCEDGE4413 which is a Superbike team and off-road bike team. Furthermore, they sponsor prosthetic sprinter aiming for the Tokyo Paralympics. In addition, Mikasa has KYANOS which is an e-sports team.
For more information about sponsorship of Mikasa for Nagoya Grampus, please refer to the link of the Japanese article below.
(https://www.footballista.jp/column/61506)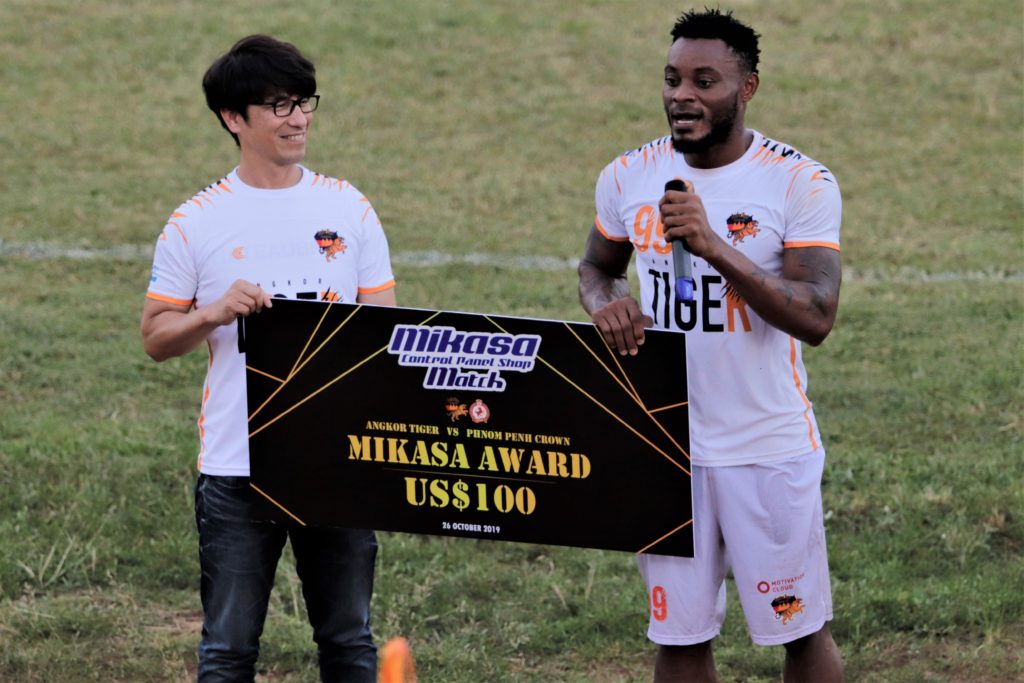 We asked President Ishida why he became a sponsor in many kinds of sports. He replied, "If I become a sponsor, I can learn from on-site, not through lectures or school. Also, I just responded to people and teams who wanted me to become a sponsor. After I realized it, I sponsored many kinds of sports."
"After sponsoring many kinds of sports, I realized that I can learn some excelled points of each sport. Moreover, there is a possibility to make connections with other sponsoring companies of the same team. These are attractive points to be a sponsor."
We asked him if it was difficult to make a settlement of accounts in the situation that Mikasa sponsored many teams and players. President Ishida said, "These attractive contents give our company benefits and positive effect of employment. I regard sponsoring as a part of the expense of employment. It's a kind of essential thing for employing workers who have deep knowledge about my company and some special abilities."
Hardship and Success
Mikasa run by Ishida manufactures control panel that controls the electrical systems of factories and companies. Currently, manufacturing is being automated and simplified. For example, robots manufacture cars in factories. Mikasa manufactures control panels for controlling such robots and machines. On the other hand, they are participating in some interesting projects. Mikasa developed the mobile police box with an automatic unmanned operation system. Furthermore, they developed huge giant robots for the business by combined manufacturing and entertainment.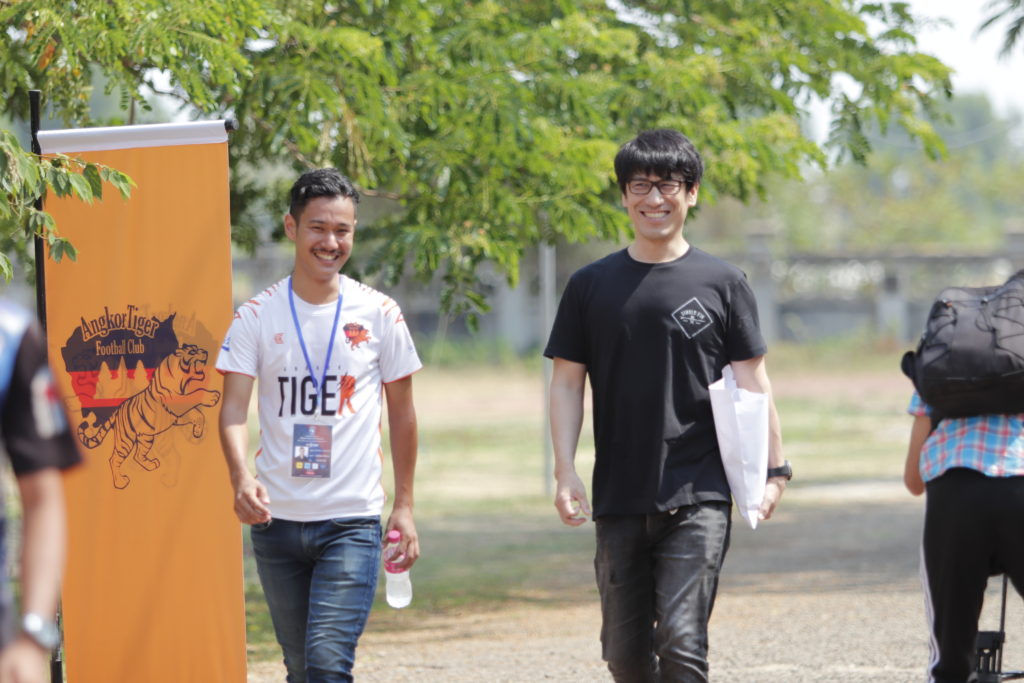 President Ishida's life seems to be successful but he lived a hard life 10 years ago. "My father ran an electronic parts shop. When I was 28 years old, I succeeded in my father's business and changed the type of business. I started to run an electronics manufacturer. It is the beginning of Mikasa. However, I thought that I was not suitable for the field of this business. Therefore, I decided to leave the specialized fields to staff and experts and improve my management skills."
Mikasa had 3000 rival companies. At that time, the website and blog were just spread all over the world. President Ishida put many kinds of information about every type of control panel on the website and blog of his company. He got the most inquiries on the website about the control panel for foreign standards. He decided that he would make Mikasa no.1 in the field of control panels for foreign standards. He gathered information from everywhere in the world to make a network between foreign companies. A certain electronics manufacturer in Nuremberg, Germany offered Mikasa to form an alliance.
President Ishida was a snowboarder and had experience in taking part in the All Japan Championship, and he had stayed in Austria as a snowboarder. Therefore, He has a connection in Europe. He thought, "I had the toughest time from the age of 28 to 32 when I started my business. I'm 33 years old now. I was invited to Nuremberg. It was an unforgettable experience that business partner picked me up at Nuremberg Airport by BMW7 series. I came back here as an invitee." There were a lot of twists and turns to the story, but Mikasa advanced to Germany, America, Italia, Thailand, and Singapore.
The vision for the future of Mikasa
At the end of the interview, President Ishida talked about the vision for the future of Mikasa, "I want to recruit more active people and pursue the possibility of our businesses such as control panel. Furthermore, I will create a huge robot industry for e-sports by combined manufacturing and sports."
"Mikasa established KYANOS, which is the company e-sports team in 2018. Currently, 2 professional e-sports players of Winning Eleven, which is a football video game, are playing as our team players. The good point of e-sports is equality. A person who is not good at exercising and a person who has a disability can play e-sports. Everyone can enjoy it. KYANOS has an advisor who has a license of International football referee. He gives our team feedback on the difference in football between real-world and e-sports. We need more active people who want to do job-related to sports like him."
If you like watching sports, you will like the company benefits of Mikasa too. You can enjoy football matches and motorsports. Please check this link for details about the company benefits.
https://www.mikasa-med.co.jp/saiyou/
________________________________________
Website of Mikasa Manufacturing Engineering Design Co., Ltd.
https://www.mikasa-med.co.jp/summary.html
Please give it a thumbs up
Get the latest information